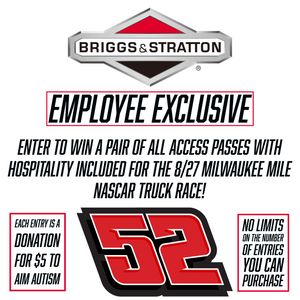 Win ALL ACCESS PASSES to the MILWAUKEE MILE on 8/27! Briggs & Stratton Employee Donation to AIM AUTISM
This is your chance to win!  We will pick 3 winners and each winner gets a all access pass for themselves and a guest as well as hospitality including food and drinks at the Milwaukee Mile on 8/27!  There is no limit on the amount of entries!  
Entries are $5 a piece and go directly to AIM AUTISM where the funds are used to make a difference in the lives of those affected with autism.